Shame on Blu-Ray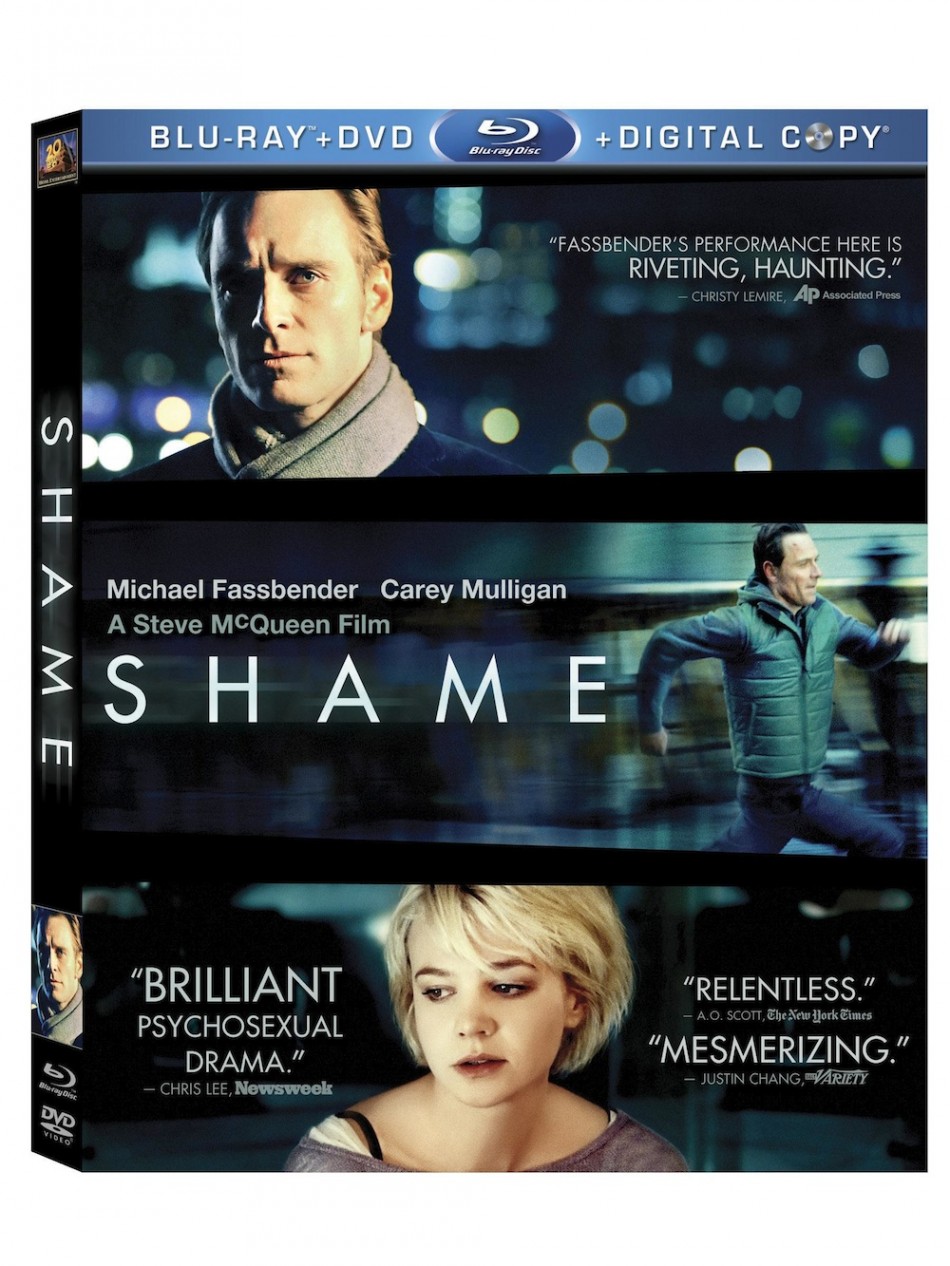 Brandon (Michael Fassbender) is a New Yorker who shuns intimacy with women but feeds his desires with a compulsive addiction to sex. When his wayward younger sister (Carey Mulligan) moves into his apartment stirring memories of their shared painful past, Brandon's insular life spirals out of control. — (C) Official Site
The Premise of Shame isn't new, but it manages to deliver unlike any other film in the past decade. It's our generations Last Tango In Paris, not only of its depiction of sexual compulsiveness, but how it represents the destructive nature and pain one suffers when trying to cope.
The Plot development in shame is subtle, with a second viewing you see director Steve McQueen superbly crafted a story with clues rather then fully exposing the facets of Brandon's(Micheal Fassbender) emotional flaws.  Once Brandon sinks deeper into his addiction there's no turning back, when he hits bottom it's unforgiving. In each scene you see Brandon's appearance deteriorate until he's broken  physically and emotionally. Give credit to Fassbender for immersing himself into the character, giving one of the best performances of 2011.
Carrey Mulligan(Drive, Pride and Prejudice) continues to hold her own alongside her leading men, playing Brandon's Sister Sissy. Where Brandon seems cold, alone and detached, Sissy is the polar opposite. Her neediness and irresponsibility are as extreme as Brandon's addiction. She intrudes into his life with her own set of issues and soon we find out why these siblings are so unstable, but remember Director Steve McQueen doesn't make it so obvious, leading his viewer to speculate what's the nature of the environment these two were apart of.
The story taking place in New York City  was a brilliant choice, New York can  have both positive and negative effects  on inhabitants. It  breeds  all sorts of addictions along with  emotional trappings,  anyone could have Brandon's disorder but what's unsettling is in the city that never sleeps it could be  deemed  normal.
Shame is a powerful drama without being melodramatic, we see the  psychological affects of  addiction not only from the perspective of  someone suffering from it  but  also how it effects those who are closest  to them.
It might've been snubbed by the Academy but Shame comes highly recommended. -ßlacren-
For the Red Band  Trailer
The feauturettes "The Story Of Shame" , A shared Vision, In Character With Michael Fassbender and the standard Theatrical Trailer director steve mcqueen and Micheal Fassbinder