Brooklyn Draws Sketch Artist from Mississippi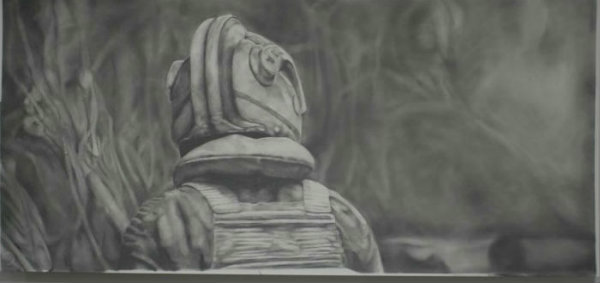 photograph of sketch work by: Kris Rodgers
sketch work by: Chris Lucius
Greetings blacren readers, Big June from B'klyn here, and in this article I'm breaking down the barriers of blind ignorance. I admit, I grew up around a predominantly Afro-American setting. The city was riddled with emigrants from all over the world, yet still pretty well segregated. There were instances like school and work, where I'd encounter Hispanics, some west Indians, maybe an African or two, and of course, Caucasians; but for the most part I was around my own kind. Most of my family and friends were down south descendants, civil rights rioter relatives, kin to martin Luther king collaborators who either feared or fought the Klan. By the time I was 18 I realized that there was more than one brand of bigotry that could be found and feared in the streets of New York. Some misconceptions were debunked but some stereotypes stuck; either because they were actually true or because I lacked factual knowledge about that particular culture and pretty much believed what I was told.
20 years later New York has evolved into a much more integrated melting pot or should I say a Wok, with a stir fry of cultures that kind of makes an urban lo-mein consisting of a colorful array of textured accents. The big Apple appears to have mixed with some of its other ingredients to make a bigger pie for everyone. Neighborhoods that catered to only one culture now cater to several. You can literally walk down the block and it looks like a gap commercial, at least in my part of Brooklyn. Red hook  Brooklyn once known as the roughest neighborhood in America is now like the 2nd coming of Williamsburg, which was the 2nd coming of DUMBO, which was the 2nd coming of The Village. Red Hook is now home to IKEA, dive bars and swanky art galleries.
Speaking of Art Galleries; I visited one, on the corner of Lorraine and Clinton street, called "Sweet Lorraine", and Chopped it up in the studio with an up and coming sketch artist named Chris Lucius. Chris was born and raised in Mississippi. Yep I said it. A pure bred, corn fed white boy holding fort in the center of Brooklyn's left shoulder. Not to mention that aside from being proud of where he's from, he's super cool and one hell of a sketch artist who also makes some very unique greeting cards see >>here<<. If that seems strange to you then perhaps you're viewing the times from your windshield instead of your driver's side mirror. Now-a-days the odd thing is thinking that there is anything unusual about seeing such a transcendence  of ethnicity in one borough.
Posted by Big June from bklyn
Follow me on twitter "Here"
To like this on your favorite site click below: